"Bear Family Records" kündigt für den 06.04.2023 die Deluxe-Edition "P. J. Proby - Presley Style: Lost Elvis Songwriter Demos 1961 - 1963" mit folgenden Worten an:
"Die CD-Zusammenstellung "P. J. Proby - Presley Style: Lost Elvis Songwriter Demos 1961 - 1963" auf "Bear Family Records®" enthält 21 bislang unveröffentlichte Demo-Aufnahmen für Elvis, Songs, die für ihn geschrieben und ihm für Film-Soundtracks und Alben empfohlen wurden, alle von P.J. Proby gesungen.
Das Management von Elvis bestand darauf, dass Songs, die ihm vorgelegt werden sollten, auf Azetaten aufgenommen und von seinem Hill & Range-Verlag vorab geprüft werden mussten.
Der Wettbewerb unter den Songschreibern war hart, denn sie lieferten auf ihre Kosten professionelle Studioaufnahmen. In der Hoffnung, sich damit einen Vorteil zu verschaffen, verpflichteten manche Sänger, die wie Elvis klangen - die Stimme von P.J. Proby passte perfekt in dieses Bild.
Etliche Songs waren für bestimmte Szenen in Elvis-Filmen vorgesehen und wurden geschrieben, nachdem die Songschreiber das Hollywood-Drehbuch hatten lesen können.
Auf dieser Zusammenstellung können Sie nicht nur die erfolgreichen Songs hören, die Elvis auswählte und aufnahm, sondern auch jene, die zwar ebenso hörenswert waren, jedoch von Elvis ablehnt wurden.
P.J. sagte: "Ich hatte ein paar der Demos in meinem Besitz und war auf der Suche nach mehr, da ich so viele aufgenommen hatte. Als sie mit all den Demos kamen, die sie gefunden hatten, und sie mir zurückgaben, sagte ich: 'Wunderbar! Wunderbar!'. Weil wir uns so nahestanden, halte ich sie in Ehren als Erinnerung an die Songwriter Ben Weisman und Ruth Batchelor und an die Tage, an denen wir die Demos aufnahmen. Ich möchte sie mit der Welt teilen, da sie ein so wichtiges Stück Geschichte sind."
Die Veröffentlichung enthält ein 36-seitiges Booklet mit seltenen Elvis- und P.J.-Erinnerungsstücken und einen ausführlichen Blick auf alle Songs und ihre Bedeutung für die jeweiligen Filme. Die Tracks galten rund 60 Jahre als "verschollen".
Inhalt:
Take Me To The Fair - Fun In Acapulco - Me And Mi Amigo - Margarita - 'Til Love Comes To You - Which Way Do I Turn - Slowly But Surely - It's Carnival Time - Happy Go Lucky Me - Carnival Of Dreams - I'll Keep Your Secret - Everything I Need - The Greatest Show - A Fool To Wander - Come And Get It - Where Is Pappy? - Snap To! - Whatta They Know - In My Dreams - Because Of Love
Quelle: Bear-Family.De
Diskutiert diesen Artikel im Forum (31 Antworten).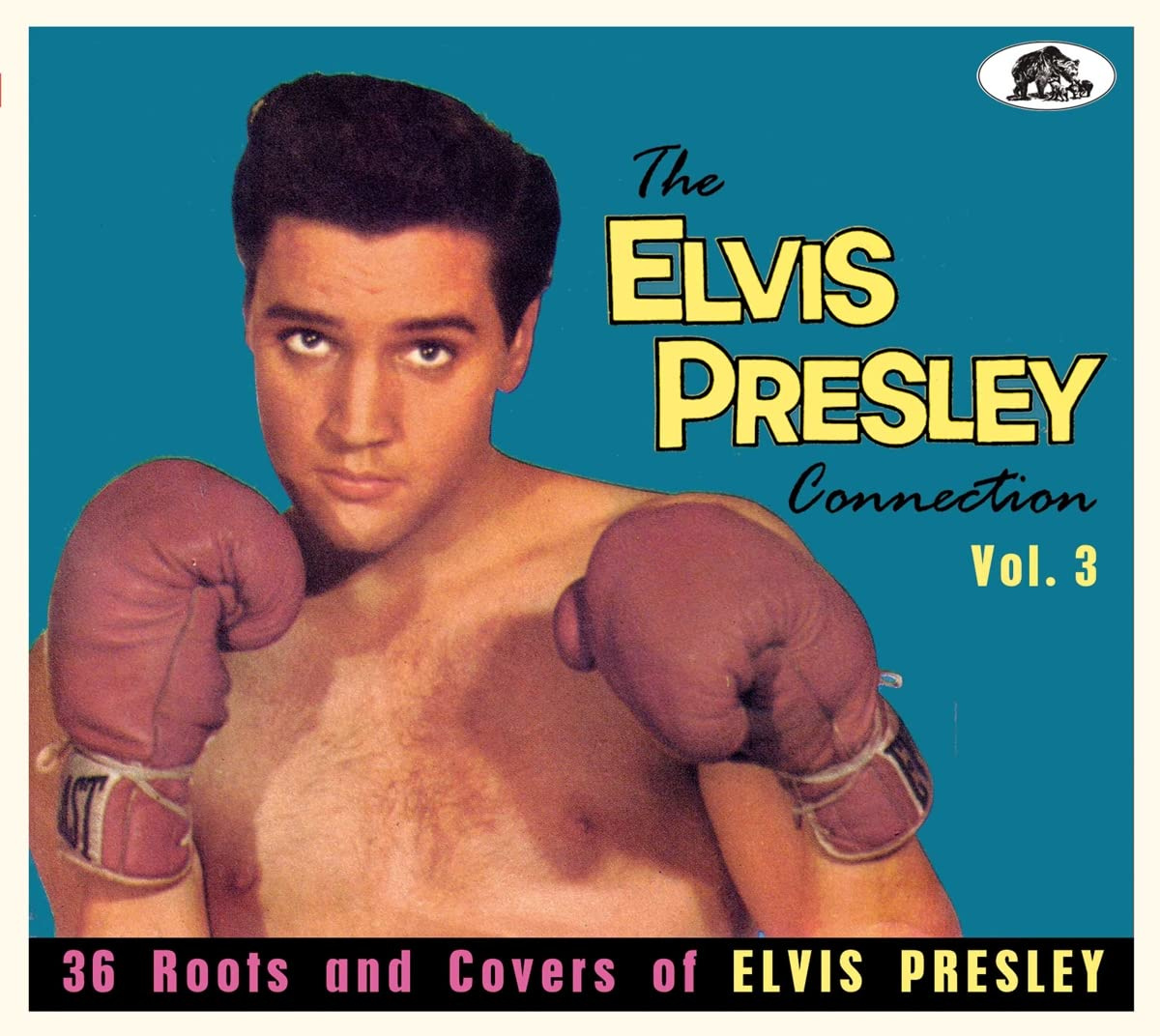 Volume 3 ist in der von "Bear Family" stammenden Reihe "The Elvis Presley Connection" angekündigt und beinhaltet - lt. Cover - "36 Roots And Cover Of Elvis Presley", ein 36seitiges Booklet mit
seltenen Fotos und Erinnerungsstücke sowie Linernotes von Helmut Radermacher.
Inhalt:
Kiss Me Quick (Rikki Henderson) - Angel (Skip Arne & The Dukes) - Follow That Dream (Johnny Holiday) - I Met Her Today (Don Robertson) - King Of The Whole Wide World (Les Carle) - Home Is Where The Heart Is (Les Carle) - Riding The Rainbow (Les Carle) - Suspicion (Terry Stafford) - Girls! Girls! Girls! -part II (The Coasters) - One Broken Heart For Sale (Otis Blackwell) - Bossa Nova Baby (Tippie & The Clovers) - Guadalajara (Pepe Guisar) (Irma Vila Y Su Mariachi) - (You're The) Devil In Disguise (Wayne Harris) - Never Ending (Roger Douglass) - What Now, What Next, Where To (Demo= (Don Robertson) - Witchcraft (The Spiders) - Love Me Tonight (Demo) (Don Robertson) - Memphis, Tennessee (The Chavis Brothers) - What'd I Say (Jerry Lee Lewis) - You're The Boss (La Vern Baker & Jimmy Ricks) - Kissin' Cousins (Ray Pilgrim & The Beatmen) - Little Egypt (Ying-Yang) (The Coasters) - Poison Ivy League (Ral Donner) - My Desert Serenade (Demo - Kenny Karen) - Frankie And Johnny (Eddie Gomez & His Latin Orchestra) - How Great Thou Art (The Browns) - Down In The Alley (The Clovers) - Love Letters (Ketty Lester) - Where Could I Go But The Lord (Marty Robbins) - Come What May (Clyde McPhatter) - Fools Fall In Love (The Drifters) - I'll Remember You (Kui Lee) - The Lovin' Machine (Demo - Gerald Nelson) - You Don't Know Me (Patti Page)
Quelle: Bear-Family.De
Diskutiert diesen Artikel im Forum (2 Antworten).